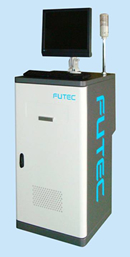 Printed Web Inspection Systems are intended to inspect a wide range of "Printed materials", such as Flexible Packaging Film, Cigarette Cartons and Pharmaceutical packaging continuously printed by Gravure, Flexo or Offset printing machines.
Examples
Printed Film for food-packaging and medical (pharmaceuticals),
Milk cartons

Packets and Cartons of Cigarettes

Corrugated Cardboard box lining paper

Rotary Offset printed handouts and Magazines
We can also cater for Printed Sheet applications.
An Inspection System finds those defects which are common in the printing process, such as ink splashes, smears, streaks as well as foreign matter.
It is possible to archive inspected data in the system memory and to use this data in subsequent downstream processes to remove the defect waste.
We are a leading supplier of inspection systems to the printing industry and have over 30 years of experience. Such experience enables this knowledge to be implemented into system development to improve both software and hardware elements of the system, in accordance with our customer's demands and needs.
Our systems are easy to use and carry out their tasks with minimal intervention.
We listen to what our customers have to say so that they continue to work with us in all areas of quality control.
Practical examples of our systems in operation
Current Models